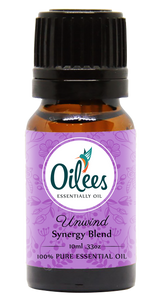 Details
Take the edge off with this blend of Clary Sage, Clove, Lavender, Patchouli and Vetiver. Allow it to bring a sense of calm, relaxation and to whisk you to a getaway where stress is nowhere to be found.
Unwind's aroma invites ease and rejuvenation for those days where you need a little calm in your life.
What's in it
Lavender (Lavandula angustifolia), Orange (Citrus sinensis), Sandalwood West Australian (Santalum spicatum), Ylang Ylang (Cananga odorata), Marjoram Sweet (Marjoram majorana), Sandalwood East Indian (Santalum album)
NOT 201004879 K
Safety & Shelf Life
Safety Precautions:
Avoid contact with eyes and mouth and do not use on broken skin. Avoid using while pregnant. If nursing or under a doctor's care, consult physician before use. Do not use undiluted on skin and on children below 2 years of age. Do not use internally and discontinue use if skin sensitivity occurs. Keep out of reach of children.
Shelf Life:
2 years
Storage:
Keep oil in a cool and dry place, out of direct sunlight.