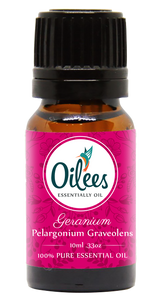 Details
Skin care creations are enhanced with a few drops of this sweet floral oil. Geranium is a girl's best friend in easing menstrual and menopausal discomfort.
A little goes a long way when diffused.
A great "pick me up" when feeling depressed as well as reduces anxiety & stress. It can also be used to treat cellulite and fluid retention.
Safety & Shelf Life
Safety Precautions:
Avoid contact with eyes and mouth and do not use on broken skin. Avoid using while pregnant. If nursing or under a doctor's care, consult physician before use. Do not use undiluted on skin and on children below 2 years of age. Do not use internally and discontinue use if skin sensitivity occurs. Keep out of reach of children.
Shelf Life:
2 years
Storage:
Keep oil in a cool and dry place, out of direct sunlight.

Add. Information
| | |
| --- | --- |
| Botanical Name | Pelargonium Graveolens |
| Origin | Egypt |
| Method | Steam Distillation |
| Plant Part | Leaves |
| Family | Geraniaceae |
| Color | Pale Yellow to Olive Yellow |
| Aroma | Sweet, Powerful, Rosy, Leafy |
| Consistency | Thin |
| Note | Middle |
| Blends well with | Angelica, Basil, Bergamot, Carrot Seed, Cedarwood, Chamomile, Citronella, Clary Sage, Clove, Cypress, Ginger, Grapefruit, Jasmine, Juniper, Lavender, Lemon, Lime, Mandarin, Neroli, Orange Palmarosa, Patchouli, Peppermint, Rose, Rosemary, Sandalwood and Ylang Ylang |
Calming floral scent
Loved the floral scent. Felt light and refreshed after diffusing it.
Girl's best friend
My favorite from oilees! Smells so good and a great mood booster, hormonal balancer and great in helping the kids calm down and sleep soundly at night. Purchased many bottles and service is always great and pleasant!