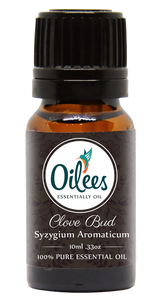 Details

It's the knowledge of most that Malaya played a major role in the Spice Trade back in the 1800's. Unbeknownst to most however is Penang's contribution; in almost completely satisfying the total demand for spices in Great Britain at the time. This included Clove Bud.
Clove Bud Oil is derived from the dried flower buds of the clove tree; and should not be mistaken for its relative Clove Leaf Oil as both provide different aromas and benefits.
Of the many benefits found in the use of Clove Bud Essential Oil, the most impressive would be its ability to support the immune system. Studies have shown that the use of Clove Bud essential oil has been linked to the improved health of those with compromised immune systems.
This overachiever doesn't stop there, with the help of this trusty oil everyday pains like toothaches and cramps can be managed in its use. Plant a bottle of Clove Bud in your home and you'll be all set to combat ailments from stomach discomfort to, diarrhoea, bloating and nausea.
Hence clove bud would be particularly useful to expecting mothers who may be experiencing nausea. So on tough pregnancy days, clove bud could provide the boost needed to make it through the day, the perfect gift for an expecting mother even.
And really, who could blame the Christmas-loving folks who can't resist the scent of the holidays? Diffusing this oil in your home at 20- 30 minute intervals will supply the immune system support you need, and then some! A calm and inviting atmosphere doesn't make a bad secondary benefit either.
Safety & Shelf Life
Safety Precautions:
Avoid contact with eyes and mouth and do not use on broken skin. Avoid using while pregnant. If nursing or under a doctor's care, consult physician before use. Do not use undiluted on skin and on children below 2 years of age. Do not use internally and discontinue use if skin sensitivity occurs. Keep out of reach of children.
Shelf Life:
3-5 years
Storage:
Keep oil in a cool and dry place, out of direct sunlight.
Add. Information
| | |
| --- | --- |
| Botanical Name | Syzygium aromaticum |
| Origin | Indonesia |
| Method | Steam Distillation |
| Plant Part | Bud |
| Family | Myrtaceae |
| Color | Pale Yellow to Amber Brown |
| Aroma | Strong, Spicy, Sweet, Warm, Clove-like |
| Consistency | Thin |
| Note | Middle |
| Blends well with | Basil, Bay Leaf, Bergamot, Cananga, Cinnamon, Clary Sage, Geranium, Ginger, Grapefruit, Lavandin, Lavender, Lemon, Orange, Peppermint, Pimento, Rose, Rosemary, Sandalwood and Ylang Ylang.  |
Ant repellant
Repels ants effectively! Dilute in spray and Ants run away! Love it!