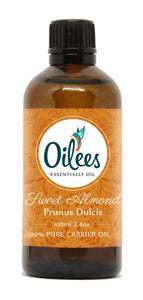 Details

Sweet almond oil is the jack of all trades in the world of oils as it is perfect for all skin types. The goodness of this oil seeps into your pores to deeply moisturize your skin, but never clogging them. It can be used as a base oil to dilute essential oils, or it can be used simply on its own. This is thanks to the rich vitamins A, B, and E that originates from this wonderful nut.

Apart from being a great massage oil, it also acts as a natural sunblock and a brilliant carrier oil for the topical application of OILEES Essential Oils. It provides extensive benefits in health and beauty and is good for our nail, skin and hair while preventing wrinkles and fine lines.

We hope that this sweet almond oil would be the perfect fit for you.


Safety & Shelf Life
Safety Precautions:
Sweet Almond is known to be very safe carrier oil however; there may be some allergic reactions present when used in some individuals
Shelf Life:
The expected shelf life is 1 year dependent on suitable storage conditions
Storage:
Refrigeration after opening is recommended
Add. Information
| | |
| --- | --- |
| Botanical Name | Prunus dulcis |
| Origin | Australia |
| Method | Cold Pressed |
| Plant Part | Kernel |
| Color | Pale Yellow |
| Aroma | Subtle aroma with hints of nuttiness |
| Consistency | Typical characteristics of carrier oils |
| Absorption | Sweet Almond has an average absorption rate that leaves the skin moisturized with a hint of oil |