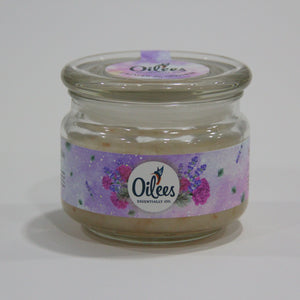 Details 
Feeling tired? Stressed? Pamper yourself with OILEES' Lavender & Geranium Dead Sea Bath Salts. Relax and soothe them tired muscles and aching joints while enjoying the benefits of aromatherapy. This is also a great way for the body to absorb minerals which require daily replenishment. Psstt.. it also aids sleep.
4 simples way (but no limited to) to enjoy our 250gms of Bath Salts. Each package is packed in a reusable glass bottle.

Hand or Foot Soak
Mix Bath Salts in a large bowl with warm water (enough to submerge your hands or feet). Soak for 15-20 minutes to ease aches and relax muscles and joints. You can also gently scrub away any dry patches or calluses with salt in hand.
Bath Soak
Soothe tired muscles with by diluting our Bath Salts in your warm bath. Enjoy 15-20 minutes of self-pampering soak to rejuvenate the body. 
Exfoliating Body Scrub
Gently scrub a handful of Bath Salts directly onto wet skin. Let it sit for a few minutes and rinse off. 
Steam Inhalation
Easily decongest your sinuses with a bowl of hot water and a towel. Mix a few spoonful of Bath Salts in hot water and place a towel over your head. Breathe in deeply to ease congestion.
Safety & Shelf Life
Safety Precautions:
Avoid contact with eyes. Discontinue use if sensitivity occurs. Keep out of reach of children. For external use only
Shelf Life:
The expected shelf life is 1 year dependent on suitable storage conditions


Ingredients

Sodium Chloride (Dead Sea Salt), Magnesium Sulfate (Epsom Salt), Sodium Chloride (Pink Himalayan Salt), Prunus Dulcis (Sweet Almond) Oil, Lavandula (Lavender) Buds, Lavender Geranium Essential Oil Synergy Blend